After timidly checking every local retailer for the past few months, I finally managed to find a single Nintendo Switch that was actually on sale. Upon first announcement, I was excited for this new hybrid console to come out, half because I finally wanted to hop back into the Nintendo ecosystem, and half because I was kind of rooting for Nintendo to recover after failing so horribly with the flop that was the WiiU. I've spent all afternoon with my Switch, setting up the online service, connecting my existing Nintendo account, searching through the E-store, and playing Mario Kart 8 Deluxe using the various control schemes. My Switch experience also extends to playing my friend's console last month, trying out Zelda: Breath of the Wild and Arms. I'll be judging the Switch from my current impressions on the console, now that we're mid/late-summer and more big releases are a few months out.
Design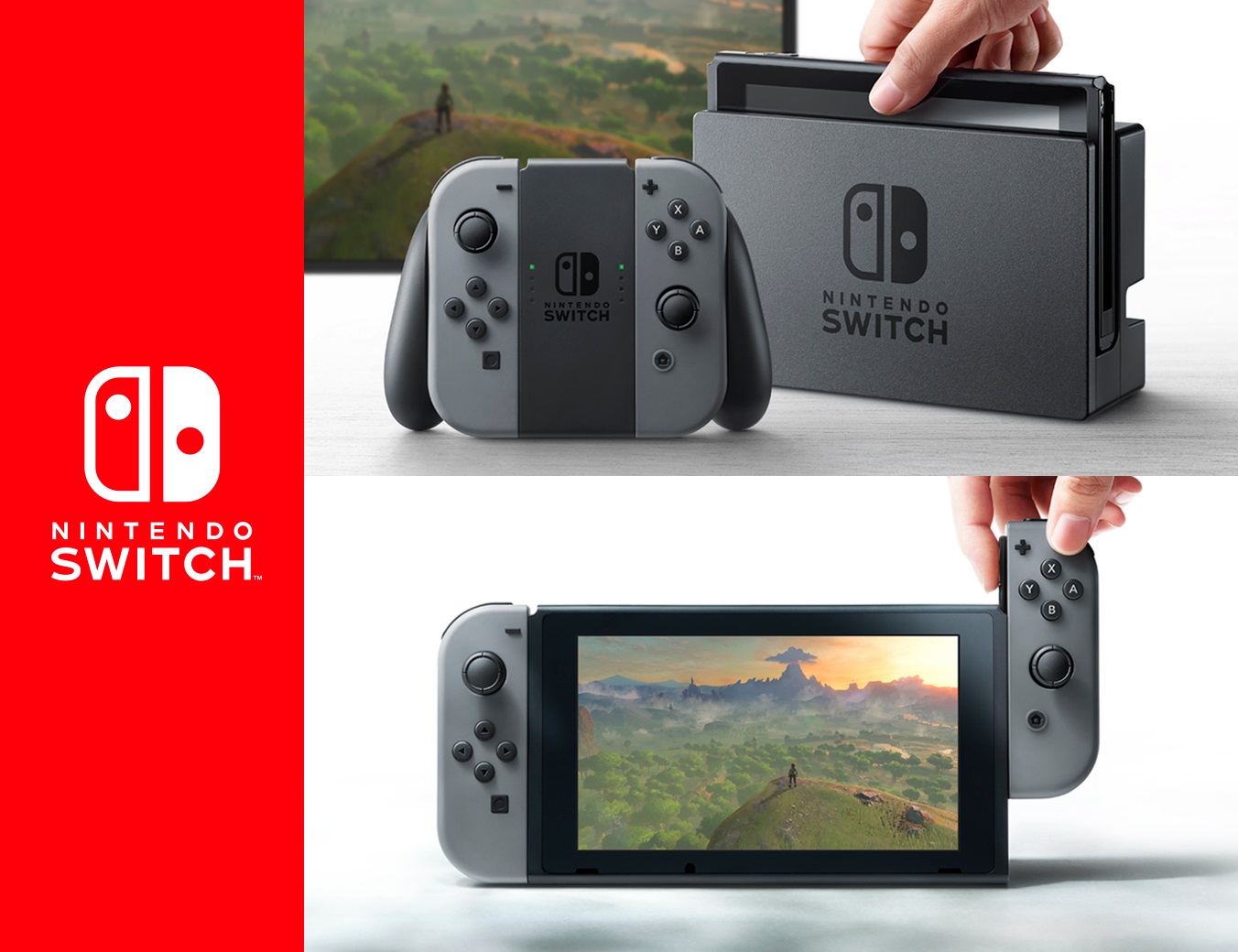 I think the most impressive thing about the Switch is the form factor and utility. If you're not aware, the Switch is a console/handheld hybrid, allowing you to dock and play off a TV or monitor, or to go mobile and play off the system itself, either handheld or at a distance using the built in kickstand. The Switch is also a pretty little piece of hardware, with just a large enough display to be the best handheld I've ever played and with such cute and tiny form function to be incredibly convenient. I love the dark grey color palette, which makes everything look sleek and modern, while accessories for the Switch range from game themed, to bold and colorful, allowing owners to decorate to their desire. The controllers are also brilliantly laid out, being incredibly intuitive and with plenty of on-screen displays that ensure you always know what you're doing.
Gameplay
When it comes to gameplay, Nintendo has always been pretty unrivaled. The Switch follows in this tradition, making it incredibly easy to load up a game (the Switch uses DS style cartridges) grab your preferred controller type, and play. To be clear, when you buy the Switch, you get the two halves that make up a full Switch controller and a dock that both halves can go into that makes it more like a normal controller. Both halves can be used without the dock, making gameplay resemble the original Wii more, and if desired, a single half can be used individually, allowing somebody else to use the other to play local multiplayer if so desired. This means that without any additional hardware, the Switch has co-op capability, which is a must for a game like Mario Kart. If you want an actual controller experience, then you can opt for the somewhat pricey pro-controller, but to be honest I've had no issues with the default controllers that come with the console. My personal favorite way to play is using the controller dock, with the console portable and set up on the kickstand, allowing me to play on any flat surface. To be clear, the console does run a lot better docked into a monitor, but to be honest you don't notice the drop in performance when you're mobile, and the trade-off is very fair. Between Mario Kart, Zelda, and Arms, I've had no issues getting games to run and play at full capacity, even when I trade off controller types and display format.
Games & Software
I'm not sure if it's because I'm coming to the Switch a little late to the game, but I'm very happy with its lineup. A console really is no use without a good library to enjoy on it, and what makes the Switch the most appealing consoles in my opinion is that it has both first party exclusive Nintendo staples, like Zelda, Mario, etc, while also having awesome third party indies, which is new for Nintendo. Not only can I enjoy Splatoon 2 on this thing, but pretty soon I'll be able to play Minecraft and Rocket League, two gaming staples that I'd put more time into if only I'd been able to have played them portable. I'm not alone in this sentiment either, and companies like Psyonix just guaranteed thousands of sales on this awesome platform. I understand critics who still feel like these initial months have been a little scarce, but coming from someone who suffered through the initial years of the Xbox One, the Switch doesn't seem nearly as bad. The Nintendo Play Store is back, and is easier and cleaner than ever to navigate, which is really nice, and the current simple interface is a welcome change from the clunky ones that Xbox and Playstation have.
Verdict
I'll be honest, now that I have a Nintendo Switch in my hand, it's hard for me to want to remove it. I got it for it's retail face value ($299) and I lucked out in getting the only one that was in stock at the store I went to. As someone who typically stays in the Xbox and PC gaming realm, the Nintendo Switch has turned me into a Nintendo fanboy. Honestly, the portable capability, the promised online features, the incredibly solid current and projected library, and the seamless form factor all make this console definitely worth the buy. If you can't find one for the standard $299 price tag, I wouldn't go for it though as you're going to be spending anywhere between $60-$200 extra just to get games, controllers, cases, etc. for your new gaming machine. My first impressions of the Switch leave me wanting to go play more as soon as possible, which is the best possible feeling to have towards a console in my opinion. Good job Nintendo! If you have a Switch, let me know what you think of it in the comments below, and look forward to my fall impressions once next quarters line-up starts to drop.
Score:
Design: 10/10
Gameplay: 10/10
Software & Games: 9/10
Overall: 9.5/10